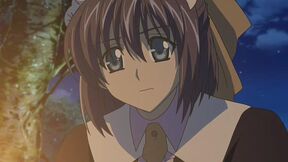 Alita Forland is the second child of the late King Forland. She escapes from the castle during Akamashi's coup, running into Falis and switching bodies with her due to a
near-death experience
. In return for helping with the defense of the kingdom, she offers the bounty hunter her body and soul. She later assumes the identity of her former maid Milano, who died ensuring her safe escape during the coup, and assists Falis with running the kingdom.
Alita was very wavering at first, not given the time to grieve her father and her friend Milano's death, and she is forced to protect her kingdom until her brother, Kaito, arrives. But as the series progress, Alita becomes more strong-willed and bold, especially when it comes to Falis's safety. This is demonstrated when she learns the truth of Kaito's treachery, she protects an injured Falis by luring him into thinking she was Alita so Falis could be safe. Alita angrily declares Kaito a disgrace to their royal bloodline at that moment. After this Falis and Alita become closer and more protective of each other for the remainder of the series.
Voiced by: Romi Park (Japanese), Monica Rial (English)
Ad blocker interference detected!
Wikia is a free-to-use site that makes money from advertising. We have a modified experience for viewers using ad blockers

Wikia is not accessible if you've made further modifications. Remove the custom ad blocker rule(s) and the page will load as expected.