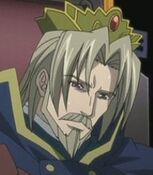 King Forland is the father of Kaito and Alita and the former king of the Forland kingdom. He is aware of the Teoria.
He is killed in the beginning of the story by Professor Akamashi during the latter's coup d'état. With his dying breath, the mortally wounded king sends his Alita to find Prince Kaito, who is leading a diplomatic mission and its military escort abroad.
Ad blocker interference detected!
Wikia is a free-to-use site that makes money from advertising. We have a modified experience for viewers using ad blockers

Wikia is not accessible if you've made further modifications. Remove the custom ad blocker rule(s) and the page will load as expected.